Athletic.net front page Cross Country
Athletic.net front page Track
SD Prep Track Instagram
SD Prep Track YouTube
Prep Cal Track
Milesplit
Union Tribune Prep Sports
Dyestat
Dennis McClanahan Photos From 2022 CC Season
Mt. Carmel Invite
Cummings/Latham Invite
Ravens Invite
Bronco Roundup
Wolf Pack Invite
Vaquero Stampede

Dennis McClanahan Photos From 2022 Track Season
CIF Boys Championships
CIF Girls Championships
CIF D1 Prelims
Dick Williams Frosh/Soph Invite
Escondido Invite
Jaguar PM Invite
Jaguar AM Invite
Viking Relays
Willie Banks Invite
Mt. Carmel Track Invite
Mt. Carmel Field and Distance
Photos from Phil Grooms
CIF Awards, JV City Conference, Falcon, Bronco, Mt. Carmel, and others




For last year's home page click here.
Calculators and Pace Tables


I've added

a few new calculators to the Distance and Sprint ones that have been on here for a few years now. The new ones will create tables for pace, times along the course, percent of pace, and a table for the Joe Vigil Acceleration latter. There are also links to several other popular calculators.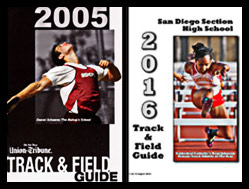 Steve Brand's Track and field guides from 2005 to
the present.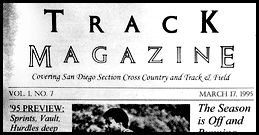 Go to CrownCity.Com/sdtrackmag for content prior to June 2011